5 Star Franchisee Satisfaction
Greater Transparency in Franchising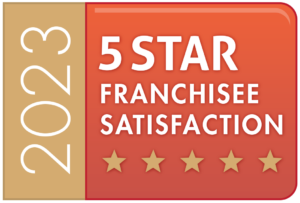 With hundreds of franchisors all shouting about how good their training and support is, it's difficult to stand out from the crowd and hard for prospective franchisees to identify the best franchise opportunities.
We already recognise exceptional franchisors through the Best Franchise Awards.
5 Star Franchisee Satisfaction builds on this, helping to differentiate outstanding franchisors.
What we measure to award 5 Star Franchise Satisfaction
Training and Support
The training, mentoring and support that helps franchisees to establish, maintain and grow their businesses
Franchise System
The competitiveness of the products / services and proven business model
Culture & Relationships
The culture and ongoing relationships with franchisees
Leadership
Franchisor's leadership and maintenance of franchise system standards
Overall Satisfaction
How it's compared to franchisees' expectations and whether they would recommend the franchise
For further information and Terms of Use, please click here.