Based on feedback from thousands of franchisees, we are delighted to announce the Winners of the 2018 Best Franchise Awards, brought to you by WorkBuzz and sponsored by Lloyds Bank.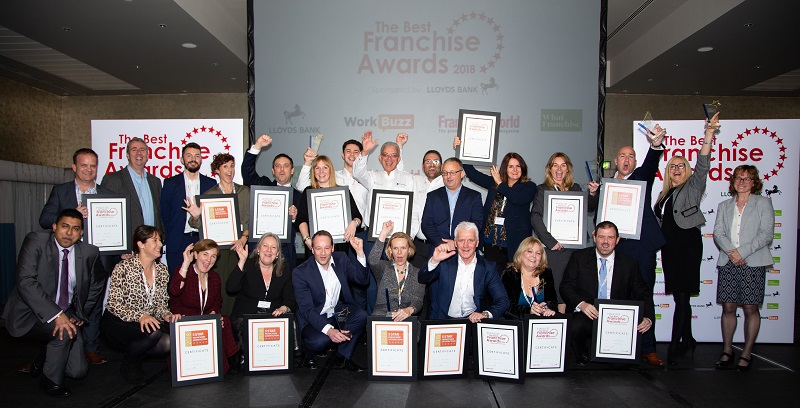 Best New Entry – Jigsaw Performing Arts​
Best Franchise Business-to-Business – ActionCOACH​​
Best Franchise Business-to-Consumer – Well Polished​
Best Franchise Management – Right at Home​
Best Franchise Children's Services – Kidslingo​​
Best Franchise Van-Based – Autosmart​
Best Service Provider – Franchise Finance 
 
The winners were announced at the Best Franchise Conference, held at the Marriott Hotel in Leicester, attended by over 130 franchise professionals. 
The awards are unique in the UK as they are based on feedback from thousands of franchisees – meaning that they really do highlight the best franchises out there.

Suki Dehal, Franchise Development Manager at sponsors Lloyds Banking Group, said, "Lloyds Bank are delighted to support WorkBuzz with the Best Franchise Conference & Awards again this year. As a member of the judging panel, I have seen first-hand the passion of franchisors, with fine margins finally separating the winners. To see how the event has grown in stature over the years is testament to the work done by the team at WorkBuzz to provide in-depth feedback, which has been invaluable to the growth of franchise brands. To speak with business owners about their key achievements has given me a fantastic insight into the motivation behind these fantastic models, who truly value the feedback and collective success of their franchisees."

Steven Frost, CEO of WorkBuzz, said: "We would like to heartily congratulate the winners of the 2018 Best Franchise Awards, sponsored by Lloyds Bank. It's been a big year and the quality of entrants has been consistently impressive – and, adding to that, we've seen an ever-wider field of competition, with a dozen first-time entrants. Looking ahead, we're excited to continue to recognise excellence and exceptional achievement in franchising."

On behalf of the WorkBuzz team, we hope you've had a fantastic year in franchising – and we look forward to working together in 2019.